A new automatic cold cutting and stacking area has been installed at METALLURGICA MARCORA S.p.A., in order to allow for:
- Increased productivity
- Fully automatic operation
- Possibility to have buffers along the area in order not to stop production in case of any downstream delay
- Possibility to handle the bar layer within the min cooling bed cycle
- Automatic removal of tails and sample collection at cold shear
- Automatic removal of short bars
- Perfect square stack shape
- In line automatic strapping and weighing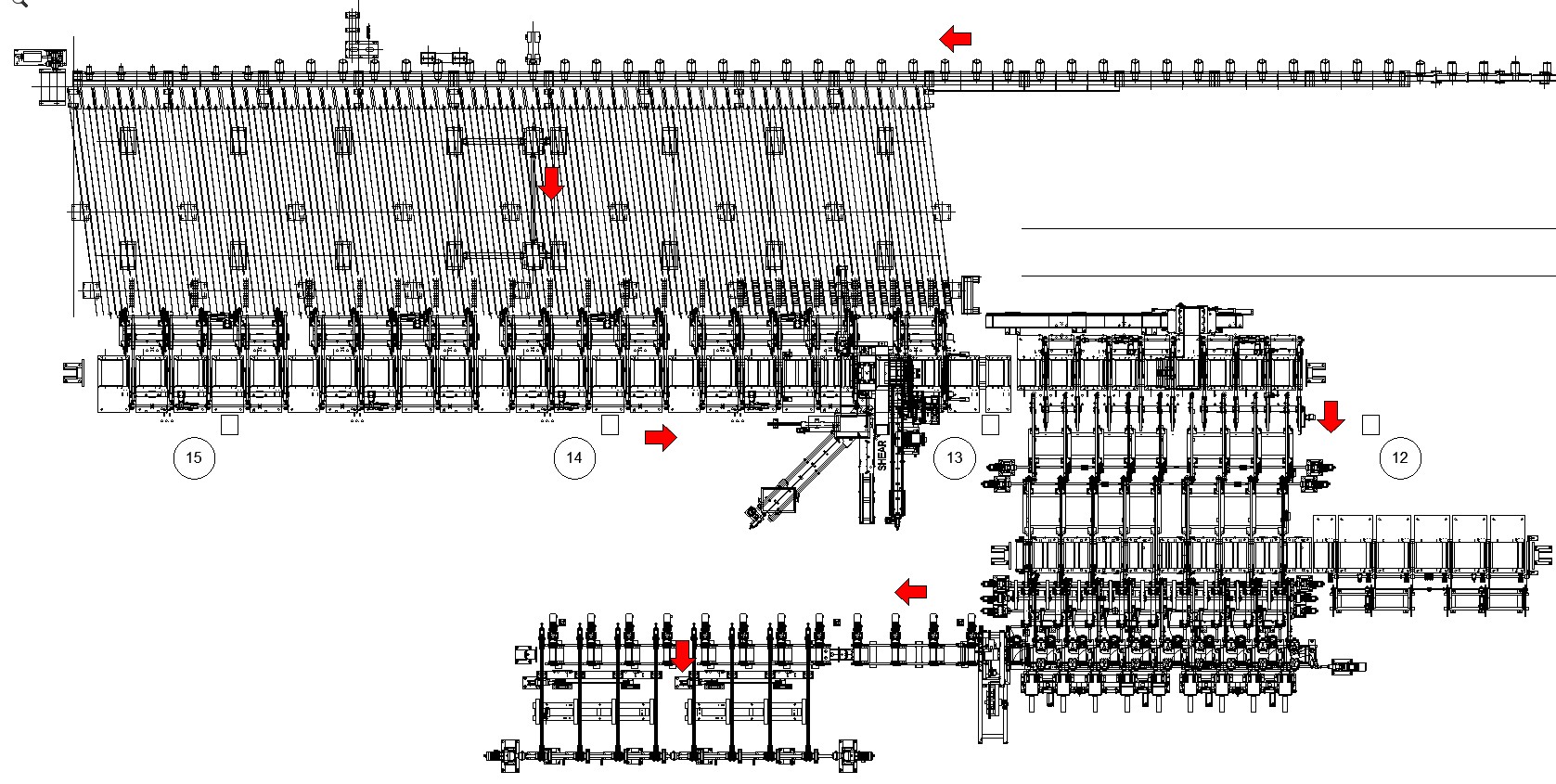 Scope of supply of NCO was including the complete dismantling of the old equipment and the installation of the new machines:
New bar layer formation chain transfer and translating trolleys at cooling bed exit;
New cold shear 300 t capacity, "C" shaped, in order to allow its installation in front of the cooling bed and therefore allowing for increased max commercial bar length within the available space;
New motorized movable gauge, cantilever type, ensuring max visibility of the area and easy access for maintenance, and equipped with servo-motors in order to allow for stricter cutting tolerances and positioning for the different bar lenghts even at rollers area.
New bar layer preparation area at stacker entrance, operating into two sections and including an automatic bars aligning roller table and short bars extraction and rejection system;
New automatic non-magnetic stacker fully electrically controlled via brush-less type motors, ensuring:

highest speed movements
maximum positioning precision
cycle repeatibility
possibility of adjusting acceleration and deceleration ramps depending on the finished product size
maintenance-free operation.

In-line automatic strapping, weighing and storing area;
Hydraulic and Lubrication systems.
Interconnecting piping, fully pre-fabricated off-line in order to minimize the plant shut-down time.
Metallurgica Marcora and NCO are glad to maintain and revive their successful and lasting cooperation in the business of steel making.